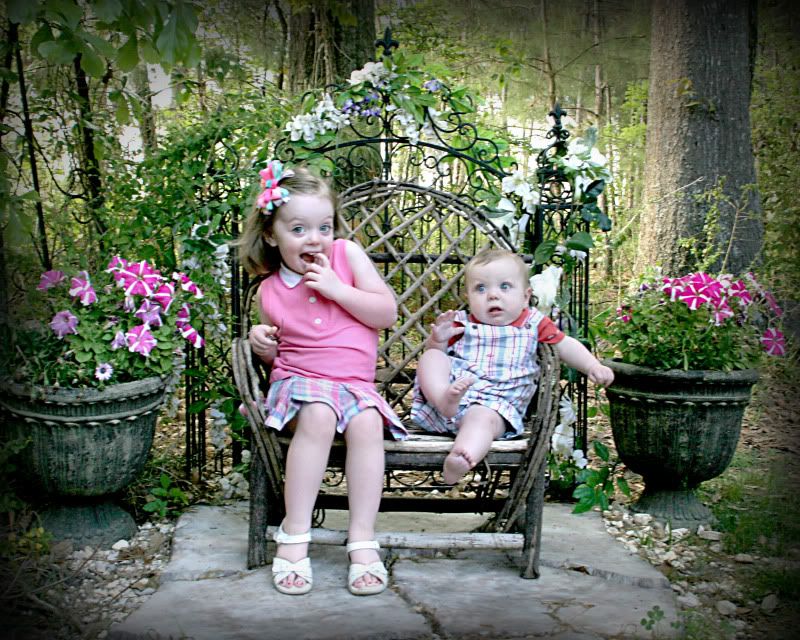 I haven't posted in AGES!!! :) Life has been pretty nuts around here lately. As I've mentioned, I have a (now) 7 month old son and my daughter turns 3 this Saturday (that's their picture above-- the look on both of their faces cracks me up so I had to share). They are the loves of my life (oh yeah, and my husband!) but man... Having kids is ROUGH sometimes! We're been battling the "Terrible 2s" (3s?) and my son had 4 teeth come in all at once-- seriously, he went from 2 teeth to 6 in less than 36 hours. It's NUTS. Not to mention the kick butt case of post-partum depression I've been working to beat (not there, but getting there).
So, all-in-all... My blog has not been a priority. BUT............. I have my surgery date.
!!!!!!!!!!!!!!!!!!!!!!!!!!!!!!!!!!!!
That's right. As of May 11, I shall officially be "The Bama Bandit"! I'm nervous and excited and dubious and hopeful and really, a swell of so many other emotions that I can't even pick one. It was weird-- when I was getting the plane tickets, the passports, making arrangements with Alma, Dr. Zapata's coordinator... It was exciting and thrilling and... Unreal.
Now, that I am less than 3 weeks from "B-Day" (band day, duh) I'm just a jittery bundle of nervous energy. Am I doing the right thing? Will it really work for me? Will I be able to cope? Could I REALLY just lose it on my own? Am I choosing the easy way out? How will I look in a size 10? .... You see how crazy my thoughts are?
Those of you who've both been there and done that... HELP! Am I going crazy like everyone else did pre-op? Or am I alone in my dubiously sane state?
Come on! If you're out there, I wanna hear from YOU. Yes YOU!! Quit looking for food or fashion porn and talk to me. Let me know I'm a part of the band community! Pretty please? Help calm my jitters!